Wednesday, March 26, 2014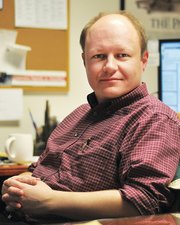 Grangeville residents: Would you be in favor of adding a half-percent tax on sales within the city? What if that meant additional revenue to improve city services? Extend city pool hours? Or (just name your particular municipal project here)?
Just so you know, the Local Option Tax (LOT) topic was discussed by the Grangeville City Council last week, and it plans to be a matter of discussion in the future. We're somewhat curmudgeonly conservative on a tax proposal, but for now we're reserving judgment for three reasons.
First off, we'd like to see revenue generated from the travelers that pass through this community. They use the roads, make pit stops at the bathrooms, visit the pool and the ski hill, and on many occasions they have need for police and fire services. Recapturing some of that infrastructure use in the form of a LOT would be appropriate.
Secondly, dedicating such a tax to a specific city project or projects would help in its public support and passage. Our preference would be dividing tax funding into essential infrastructure work and long-term improvements to benefit parks and recreation; essentially, provide for what we need and for what makes life enjoyable here.
Lastly, the city council and we as city residents need to discuss this and hear the options, rather than just dismiss this out of hand just because it's "another tax." We appreciate Mayor Bruce Walker being upfront in his opposition, and reasons for such, and that he and the council are interested in more information and further discussion.
It's not often we're consulted as to the taxes proposed to be imposed upon us. Here's an opportunity for us to decide that for ourselves, and if we so choose to pursue it, how we want that money to be used.