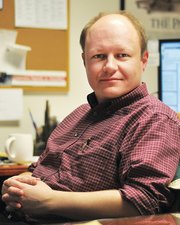 Before you know it, the May 20 primary elections will be here. Unless you've already voted absentee, you're still kicking around the "who" and "why" of your choices, so here are a few things to help you get ready.
With two weeks to go:
• The nonpartisan district judge races are a little more interesting as the political party aspect is (or at least should be) missing, so those looking to vote a big "R" or "D" here will be disappointed. You can certainly scan the advertisements; and if you can catch a candidate at a local forum, that's really the best option to measure up these men. On that note, we'll place District Judge Jeff Brudie on your radar for consideration, as he's the only one – in the Second Judicial races — so far who we've seen who has made public appearances before voters in Idaho County.
Along with these information options, we'd recommend viewing the Idaho State Bar attorney survey results online: http://www.isb.idaho.gov . If you want to know how a judge measures up, the opinion of the attorneys who took this survey should be part of your decision-making process.
As well, since we've got a few lawyers in town (and you may know one or two), just get the skinny direct from the source.
• Newspaper advertisements, yard signs and especially endorsements on the letter to the editor page are the essentials to help voters narrow down what areas candidates are or aren't strong in. Candidate websites, though obviously one-sided, can be extensive looks into the philosophies and policies being proposed. Contact your candidate here with further questions, and also find out who their local campaign supporters are for information.
Social media? Sites, such as Facebook, are extending the debate into real time. So you can be asking questions or raising issues, and getting the online community involved in the discussion as fast as fingers can fly. Be prepared for the uncensored nature of some of these politically/socially charged comments, and that they may need some balance. Because, as we know, not everything is true on the Internet.
The week before:
• Next week, May 14, the Free Press will have sample ballots in the B section. Sit down with those so you can map out your polling choices ahead of time. Cut those out and take them with you. Also, here's the place you can also find your polling location.
• Are you registered? What's your party affiliation? If you don't know, you'd better call the Idaho County Elections Office, 983-2751. Note that only unaffiliated voters can register an affiliation before the May 20 primary, and that only registered Republicans can voted in the closed GOP primary. Lastly, next Wednesday, May 14, is the last day to request an absentee ballot.
And after May 20? • Take a breather, but don't think you'll escape politics as candidates – and their enthusiastic supporters — will be hitting the parades and community celebrations through the summer, prepping voters with their messages time and again before the general election Nov. 4.