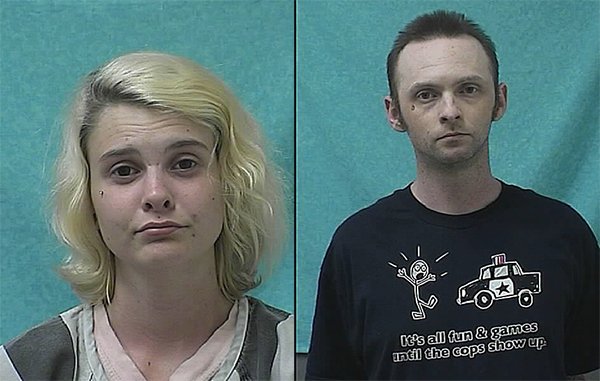 COTTONWOOD – Less than two days after allegedly robbing the US Bank in Cottonwood, two suspects were arrested Sunday morning at a Lewiston motel. With the pair — Ricky A. Fisher, 35, of Nampa, and Jennifer L. Balfe, 19, of Meridian — currently incarcerated in Grangeville, Idaho County is working with federal investigators on how charging will proceed.
Fisher and Balfe are set for preliminary hearings in magistrate court on Thursday, May 29.
Last Friday evening's May 16 incident is believed to have been a crime of opportunity for the pair, who according to investigators is also suspected of robbing two other banks in Ontario, Ore., earlier this month.
"The whole process took just a couple of minutes," said Cottonwood Police Chief Terry Cochran on how quickly last week's robbery was committed. Nothing points to the pair having planned the robbery in advance; in fact, it was apparently on a moment's whim as he described their thinking as, "Hey, there isn't a cop car in front of that bank. So let's hit that one."
The incident was reported at 3:15 p.m. According to investigators, the pair was headed north to Lewiston on U.S. Highway 95 and drove into Cottonwood where Fisher is alleged to have entered US Bank and handed the teller a note demanding money. Fisher received an unspecified amount of cash and walked out of the bank and entered a four-door sedan that drove north on U.S. 95.
No weapon was used or overt threat was made in the robbery, according to Cochran, however, just in the circumstances – a suspect using a note to demand money — "the threat of force is going to be there," which is how the bank clerk in this situation perceived it and how the general public perceives it – "That this guy is going to do something."
Initial incident response was by the Idaho County Sheriff's Office, followed by Cottonwood and Grangeville police officers, and an Idaho Fish and Game officer, and the FBI, according to Cochran. Initial leads were followed on a possible suspect vehicle sighting in town and the following day at Pine Bar; both turned out to be false, as did a report of a bank robbery in Nezperce, he said. Photos of the suspect were retrieved from bank surveillance video and provided to law enforcement and area news media, and a subsequent surveillance video of Main Street from Bud's Power Sports helped investigators identify the suspect's vehicle.
Investigators were led to the pair at Lewiston's Cedars Inn, following an anonymous tip provided Sunday morning, May 18, to the Idaho County Sheriff's Office. On identity confirmation of both the suspects and their vehicle, Lewiston Police Department SWAT was deployed, and around 11 a.m. that morning, Fisher and Balfe were taken into custody without incident as they walked out of their motel room.
Federal agents are still investigating this case and are working with the Idaho County Prosecutor's Office on the best route to go as far as charging, according to Cochran.
Discussing this incident, Cochran said, "You just don't know what is going up and down this highway." It is for such spur-of-the-moment incidents as this that area law enforcement has had contingency plans for, and in this case, "it worked the way it was supposed to," he said, with the suspect being given the money and allowed to quickly exit the bank. "Cooperate, and we'll catch him later," Cochran continued, rather than the more difficult scenario of dealing with an armed suspect trapped inside with customers and employees.
Concerning the suspects in this case, Fisher was just placed on probation May 1 following completion of a seven-year sentence on a federal conviction in 2007 for the robbery of Bank of America in Hayden.
Quick resolution of this case, Cochran said, was due to the cooperation between city, county and federal law enforcement agencies coming together on this case and engaging the public to reach a "satisfactory end where neither the public or the alleged suspects got hurt, and no law enforcement got hurt." The key in helping solve this were the efforts of both news media in distributing photos and information, he continued, "and the general public being involved and willing to work with law enforcement to let us know. Without the help of the press and public, this could still be going on."