Wednesday, April 19, 2017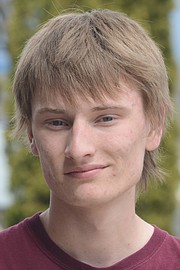 Grangeville junior Tyler Stephens has been on a tear, with his bat helping protect home run hitter Chase Adkison at the top of the order.
It's Stephens' pitching and strong defense that has lifted the Bulldogs in the Central Idaho League.
With Stephens pitching last Friday, April 14, the Bulldogs skunked CIL rival Orofino 11-0 in the first game of a double-header — and that was despite a bit of a rough first inning.
"When Orofino had the bases loaded, I thought, 'Oh, man, this is going to be terrible,'" Stephens said. "But one of their guys led too far off of second base. Chase threw down and got him out and that changed the whole game for me. From then on, it was easy for our team."
Junior shortstop Trent Hunter made the tag and Stephens ended up striking out eight Maniacs in the opener. When regular catcher Adkison took the mound with a 5-5 tie score during the fifth inning of the second game, Stephens took over behind the plate — and GHS outscored Orofino 9-1 to lock in a 2-0 league record.
"Playing with a guy like Chase is great," he said. "He really brings the energy out. He makes those awesome plays that really get the team fired up. And Trent has been playing well, too. He's been hitting the ball and he's a solid defensive player. It counts for a lot to have guys like that behind you when you're in a jam."
After striking out the first batter, Stephens said he walked the next two and then threw one too far inside, loading the bases.
After his Bulldog teammates picked him up, Stephens carried GHS the rest of the way to the win.
This Bulldog of the Week athlete highlight is brought to you by: CompuNet, Inc.