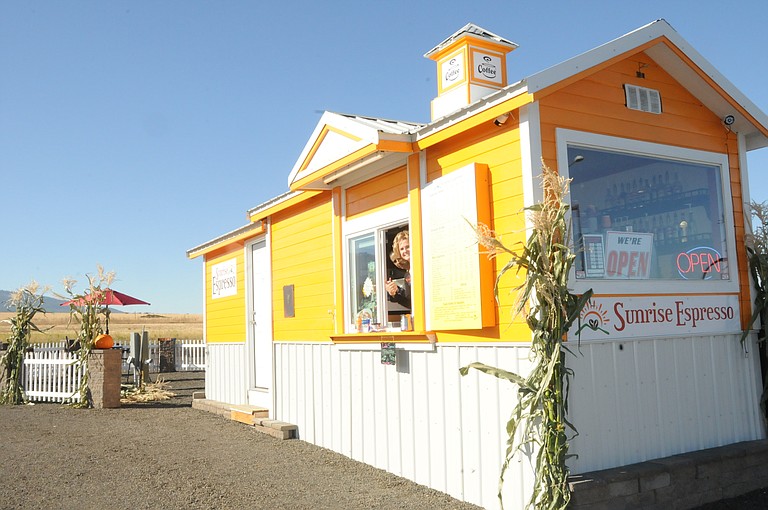 Wednesday, October 11, 2017
GRANGEVILLE — "You have to enjoy and love coffee to have a good coffee shop and serve a good cup," smiled Alison Stahl. "I love coffee."
Stahl opened Sunrise Espresso at 914 West Main Street (behind P1FCU and the Free Press and across from Zip Trip) Aug. 2.
She and her husband, Craig — who built the drive-through shop and has supported her decision from the start — has been her right arm and continues to help her, she said. They moved to Grangeville from Salmon, Idaho.
"Our kids were all grown and we were ready for a new adventure," she said. The couple has six children, eight grandchildren and has a variety of family members who live in the area.
The Stahls, prior to moving, owned their own print shop and have had several other careers, but Alison has been in the coffee world for the past several years.
"It was a dream of mine to have a coffee shop, and everything just fell into place," she said.
Sunrise Espresso not only offers a wide variety of coffee concoctions, but also has teas, blended drinks, Italian sodas, energy drinks, juices, flavored lemonades, smoothies and hot chocolates. Also served are bagels, oatmeal, muffins, breakfast burritos and biscuits and gravy which are made fresh daily. There is also a house drip coffee for the more traditional coffee drinkers.
Grand opening set for Oct. 13
GRANGEVILLE — Sunrise Espresso's grand opening is set for Friday, Oct. 13.
Inland Cellular will be host to the event from 9 to 11 a.m. Anyone who stops in will receive a free 16 ounce drink.
From 11 a.m. to closing, anyone stopping in and purchasing a drink will get a double stamp on their card (10 punches equal a free drink).
Regular hours are Monday through Friday, 6:30 a.m. to 3 p.m., and Saturdays, 7 a.m. to 2 p.m. In the future, plans are to be open Sundays as well.
Like Sunrise Espresso on Facebook for additional details.
In the future, Stahl hopes to add a few more quick menu items for lunch, especially for the Grangeville High School students who drive through during lunchtime.
Sunrise Espresso customers can drive or walk up on both sides of the shop, and a sitting area is located on the back end for whenever weather permits.
So far, the most popular menu items, Stahl said, have been the Heaven Latte — her specialty — and their real Huckleberry Frappe. Fresh huckleberry lemonade and the homemade burritos are also popular.
She offers a different daily special each say, as well as a Red Friday Special to promote "Remember Everyone Deployed" by rewarding those who wear red.
"I always support the military," she said, "but my son is in the Air Force now, stationed overseas, so it's especially on my mind and in my heart.
Stahl said the community has been so supportive and she is enjoying her new endeavor and thank you to all.
"Stop by and say hi," she encouraged.
The shop also employs local Carla Holliman as well.
To call ahead with orders, dial 208-507-DRNK (3765).