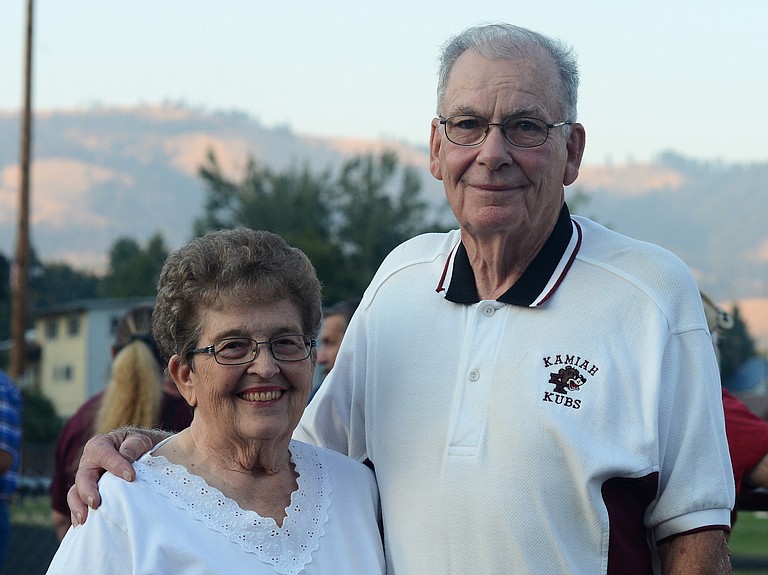 Wednesday, September 6, 2017
KAMIAH — After a lengthy introduction during a pregame ceremony that would culminate with the unveiling of new signage on the Kubs' scoreboard, Bob Squires told the crowd a pointed story about his coaching career.
"My very good college friend Julian and I sat together at track meets for years," Squires later retold the Free Press. "One year we were battling Nampa Christian for the state title. It would come down to the 100 meter dash — we knew which events should go one way or the other, but the 100 would be a big swing."
"I said to my friend, 'We've got to win this one,' and the Nampa Christian runner false-started," Squires said. "Our kid went ahead and won, and Julian turned to me and said, 'I know you can't coach a lick, I've seen you take 6-foot high jumpers and have 'em down to 5-4 by state, but you are lucky!'"
"We had a pretty good laugh over that," Squires said, "and he wasn't far from wrong."
The crowd chuckled at that last Friday night, Sept. 1, having just heard Greg Johnson's recounting of Squires' successes: "Through Bob's knowledge and skill, he was able to choreograph five boys state track meet championships and three girls championships back to Kamiah. His skill is well-known all over the State of Idaho," Johnson had observed. "Bob's commitment to the children of Idaho has been recognized by the Idaho State Athletic Association and the North Idaho Hall of Fame."
After the speeches, Kamiah unveiled a new banner bearing Squires' name, and it was promised that a permanent sign won't be far behind.
"It was an overwhelming honor," Squires told the Free Press. "When I started, Darrell Snyder had been coaching a number of years. The track numbers dropped off after he died, and we got it back up to 25 or 30 every year."
"Building it up was quite an exciting thing, but the truth is we were fortunate to have the athletes we did year after year," he added. "We had a consistent program and that was very satisfying. Small schools normally go through ups-and-downs, but it seemed like we had good classes come in year after year after year."