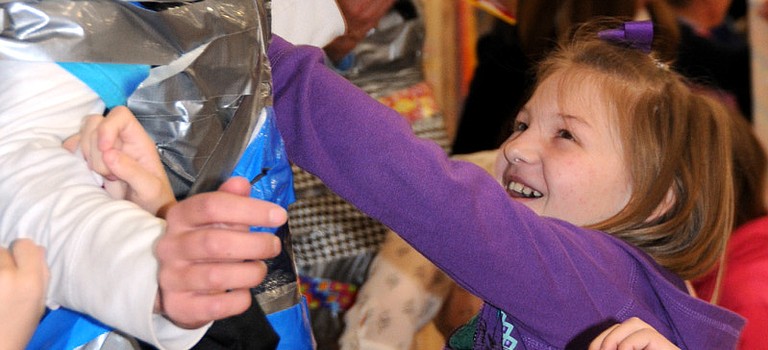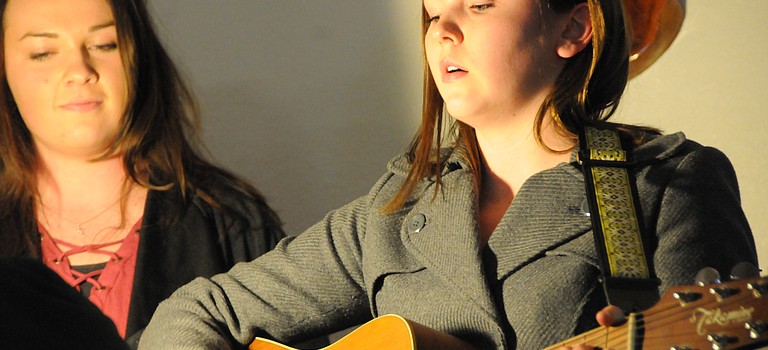 Grangeville Health and Rehab will hold a tree lighting at its facility (410 East North Second Street) this Friday, Dec. 9, 4 p.m. The public is invited to attend. Sue Johnson will sing at the event, and hot chocolate will be served. This is the first year for GHS to conduct its own tree lighting event, to allow residents an opportunity to enjoy this who otherwise could not get out to see lights in the community.

Virgil Wassmuth was presented with a Quilt of Valor at the Dec. 1 Summit Academy veterans program.
A group of individuals met in Grangeville on Oct. 13 to discuss opportunities related to developing business around brewing beer and/or distilling spirits.

Week one winner for the "4 Weeks of Christmas" holiday showcase giveaway is Brianna Kaschmitter of Grangeville. She is pictured here with GreenAcres owner Russ Lindsley, who provided a $100 gift card to GreenAcres for the first week's prize. Kaschmitter plans to use the winnings on some landscaping at the new home she and her husband are currently building outside of town.

o you enjoy reading? Book-N-Hand, a new book store (with "books, et cetera") opened Monday at 158 East Main Street, Grangeville. Stop by and see what they have to offer.
An informational meeting is set for Thursday, Dec. 1, for those interested in microbrewing and/or distilling spirits. The Ida-Lew Economic Development Council is sponsoring the event starting at 5:30 p.m. at The Gallery.
Thanksgiving and Black Friday are over. I hope everyone survived! Now we can start thinking about Christmas. The cows are all home so we have something to watch in the pasture up on the hill. They always seem happy to be home.
Hope everyone enjoyed the long holiday. Now it seems another one is on the way! Oh where did the last part of the year go? December will be upon us on Thursday, so on Saturday, Dec. 3, we are inviting everyone to come down to the park and get into the holiday spirit and "Deck the Town for Christmas." This starts at 11 a.m.
My Sweet '16 quote for the week is "Remember, laugh when you can. Apologize when you should. Let go of what you cannot change. Life is too short to be anything but happy." Congratulations to Ethan Shepherd of Riggins who was the big winner of the "more than $1,000" in gifts and gift certificates sponsored by the Christmas bazaar with 18 local businesses and 27 Christmas bazaar vendors filling the prize basket. What a great way to encourage others involved on our local event! Kudos to the event planners, vendors, and shoppers. It was another successful event.
Fire Department monthly meeting is set for Dec. 1, 7 p.m., at the Forest Service Conference Room. Time to look for things/items to donate to the Elk City School Christmas bazaar. Leave them at the school or call Sue at 842-2359.

Jaclyn Stebar of Grangeville and her two children took a jog down South State Street last Friday afternoon, Nov. 25, bundled up against the fall weather. Stebar gets out for a jog every day.

ELK CITY - This week, look for boxes seeking items from a list of needs for our soldiers in Iraq. Donations can be dropped off at The Store or at the VFW Post. Monetary donations to help with postage will also be accepted. These supplies will be sent off to reach our troops through the month of December to show our support and boost morale of those who cannot be home for the holidays. The VFW Ladies Auxiliary heads up this program and be overseeing the mailing of packages.

Encouragers will host their annual Christmas party Thursday, Dec. 1, at 11:30 a.m., at Oscar's Restaurant in Grangeville. The monthly no-host luncheon will feature Christmas music by Myra Pierce, Pat Hunter, Carol Schmidt and others. Carol singing and a white elephant (good garage sale item) gift exchange are planned. All are welcome to this regular first Thursday of the month informal gathering for Christian fellowship, and presentations by various speakers, panels and musicians. Meetings are at 101 E. Main.
The Idaho County Free Press is looking for someone to cover Kooskia and the surrounding area for the weekly People page.

Look for a new twist to this year's Holiday Gift and Food Fair set for this Saturday, Dec. 3, at Grangeville Elementary Middle School. It will be held in the multipurpose room and hallways. Bridget Barela has organized the Camas Prairie Children's Business Fair with handcrafted items completed and sold by local children.