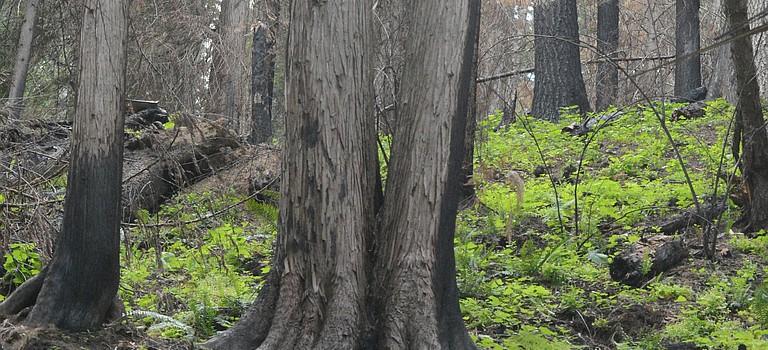 Residents in the Grangeville chip sealing project area may hear industrial traffic starting Sunday night, as the city sweeps up excess rock from the week-long project.
"I would like to have anyone who says our coaching policy is unfair here right now," said Mountain View School District 244 Superintendent Kent Stokes. "This is not easy and it's never fun to cut kids. No coach likes that."

Despite a storm that dropped buckets of rain and blew down tree branches throughout Grangeville just more than an hour prior to Shook Twins performing at Pioneer Park July 23, the concert ended up being well attended by nearly 200 people.
In the mood for some fresh-grown raspberries? The Raspberry Festival is an annual fund-raiser for the Historical Museum at St. Gertrude and is set for this Sunday, Aug. 2.

A parade of men, pink boas decorating their trucks, made their way down the narrow road toward the Flying B Ranch the morning of Sunday, July 19. These net-wielding, pole carrying, vest-clad men were met with whoops, hollers and cheering. Fourteen women were paired with these river helpers – and some were even greeted with a good-natured "dance dollar" poked in the pocket of their fishing guests as the duos met for the first time. They soon made their way to the pond on the ranch and began Casting for Recovery.
The annual Dixie Days event will feature a variety of activities for its 104th annual celebration Saturday and Sunday, Aug. 1 and 2.
Brandon Knapton will be joining the Nez Perce Clearwater National Forests Aug. 3 as the new Lochsa/Powell district ranger.
In celebration of Idaho's Farmers' Market Week as proclaimed by Governor Butch Otter, the Grangeville Farmers' Market will be hosting some special events.
The coolest, wettest weather of the summer limited the growth of local wildfires, but last week's storms also brought much lightning to the Nez Perce-Clearwater National Forests.

Despite an injunction that has prevented the use of Forest Road 652 by log trucks, logging of a state land timber sale near Lowell now appears ready to start in time for the Idaho Department of Lands to net $500,000 to $750,000 for the state schools endowment. The Idaho Land Board last week gave approval for logs from the $2.5 million Selway Salvage timber sale to be transported off-site by helicopter, reducing the public's profit by as much as $1.5 million compared with hauling the logs by road.
A Colorado motorcyclist was injured last week in a crash along U.S. Highway 12 seven miles west of Syringa.
An Oregon motorcyclist was injured in a Monday collision with a vehicle south of Lucile on U.S. Highway 95.
Work may be delayed a year on the $8 million Idaho County Airport runway reconstruction project, but the engineering preparation work continues.
Last Thursday's storm that pounded the region with rain and lightning likely contributed to igniting a structure fire that destroyed a Battle Ridge Road home, garage and adjacent outbuilding.
A curious raccoon survived to tell a shocking tale … at the expense of more than 1,000 Avista customers left without power for nearly nine hours last week.
Previous Next