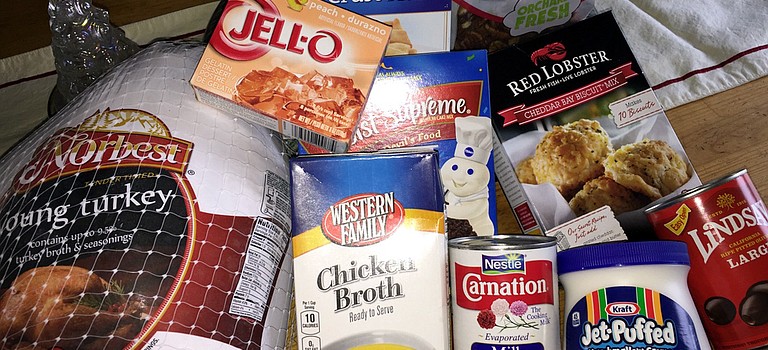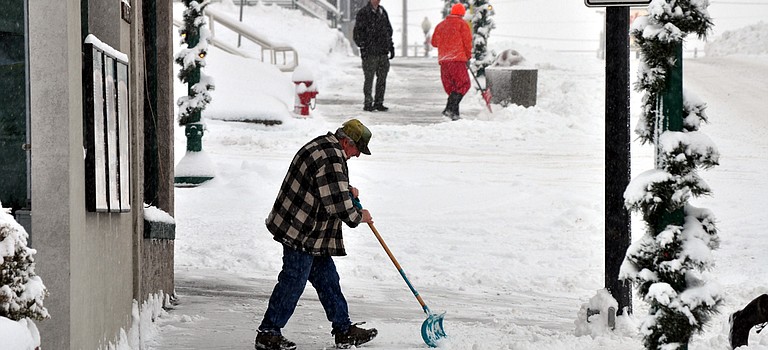 Valleys to expect 'impressive totals;' potential impact to ground, air travel
More snow is on its way for Idaho County in a series of forecasted systems set to start Thursday evening, Dec. 8. Multiple rounds are expected, according to a Dec. 7 video briefing by the National Weather Service Missoula office, with Thursday beginning a four- or five-day period where many valleys will see accumulating snow each day.
Comment due Dec. 10 SH13 project at Butcher Creek
Butcher Creek Bridge on State Highway 13 is being proposed for $1 million in replacement work by the Idaho Transportation Department. This is one of 26 such projects ITD proposes for implementation throughout the state, pending available funding.

Putting meals on table:
We're all thinking of the upcoming yummy holiday treats. However, in the midst of personal blessings, there are also great needs within the community.

Grangeville Elementary Middle School PTA treated kids to a "duct taping celebration" Wednesday, Nov. 30. Students had a goal of raising $10,000 in the all-school fund-raiser; they actually sold more than $15,000 worth of merchandise. Students who sold items had the fun of duct taping GEMS Principal Dr. Susan Anderson and teacher/assistant Brittany Stewart to the gym wall.
In late October, when heavy machines arrived in Crooked River to start reconstructing the river valley, the Idaho County Commission demanded the Forest Service delay the start of work, which had been in planning since 2012. Among other changes, the project called for removal of most of the so-called "meanders" – the piles that have channeled the river since miners put them in place in olden days. Favorable weather allowed workers to complete a bypass channel before snow set in this week.
Black ice a contributing factor in Dec. 4 accident
Two Cottonwood residents were injured in a Sunday evening, weather-related crash on U.S. Highway 95 along the Winchester grade. Idaho State Police (ISP) is investigating the incident.

Ida-Lew Economic Development Specialist Jessaca Austad is adding to her workload. The Grangeville-based businesswoman is becoming certified to serve as the Idaho Small Business Development Center's (SBDC) agent for Idaho and Lewis counties. "It is a job that really complements what Ida-Lew has to offer," Austad explained. "It's a very good partnership."

Grangeville Elks Lodge 1825 donated $2,000 to VFW Post 3520. Funds came through the Elks National Association's gratitude grant provided to support local, charitable activities. Presenting the check on Dec. 2 were (L-R) Dan Tackett, vice president of the Idaho Elks Association; Eric Jones, Grangeville Elks Lodge trustee; and Chad Miller, commander, VFW Post 3520.
A string of burglaries dating back to the end of July in the Cottonwood area remains unsolved. Both Cottonwood police and Idaho County Sheriff's Office say they are interested in finding out whether the burglaries are connected to incidents in Northern Idaho.

The Grangeville High School HOSA (Health Occupations Student Association) donated $450 to the Camas Prairie Food Bank Thursday, Dec. 1. Money was raised from the sales of Camas Prairie Shoot-out T-shirts. The group donated half the proceeds to the food bank and will use half the funds for their year's activities. Pictured (L-R) are HOSA advisor Tracy Baune, Mountain View School District 244 nurse, HOSA vice-president Chloe Dame, HOSA secretary Kaitlynn Spets, HOSA treasurer Sarah Fischer, HOSA president Jillian Stinnett, and Camas Prairie Food Bank volunteers Carlene Whitesell (manager), Bonnie Austin, Pat Matthews and Carol Schmidt.
Salmon River JSD:
The Salmon River Joint School District took care of some general housekeeping items on its agenda at the Nov. 21 meeting. One action item, however, received a little assistance from student Maddie Tucker.
'The overall results have been positive'
Have you ever felt your opinion didn't matter? As part of its ongoing accreditation process, Grangeville High School is out to remedy that. Principal Steve Higgins has been going over the results of a recent all-school survey that has included parents, staff and students.

More than a year ago, Irwin Drug owner Chad Jungert started a fund-raiser to purchase an all-terrain wheelchair for Grangeville High School graduate and avid sportsman Tom McAdow. More than $6,000 was raised and McAdow was able to obtain a new all-around wheelchair as well as a chair rugged enough for hunting and fishing in the backcountry. (L-R) Jungert and McAdow are pictured here in Heritage Square parking lot in front of McAdow's truck.
'As the strategic plan goes on, it's a good time for this type of outreach' — CEO Joe Cladouhos
As Syringa Hospital works on its strategic planning process for a CEO transition and possible affiliation with Kootenai Health in 2017, the board met again Nov. 29 with consultant Lorraine Roach of Montana. Roach spent the day going over information with the trustees, administration, department heads and medical staff, brainstorming as well as discussing health care trends and area statistics.
Syringa Hospital board of trustees has met, made decisions, gone over reports and worked on the hospital's strategic plan several times in the past few months. Some news from those meetings includes the following:
Previous Next