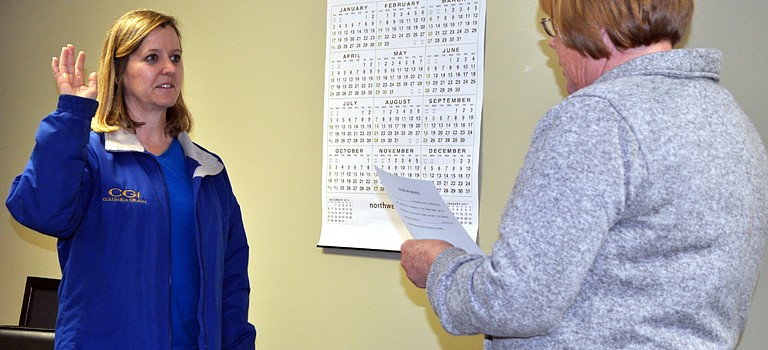 Open range:
"Open range is an interesting law from way back," said Doug Giddings, Idaho County Sheriff. The western open-range tradition originated from the early practice of unregulated grazing in newly acquired western territories, which was codified in the laws of Western U.S. as they developed written statutes, dating back to the 1880s.
Winter wheat seedings in the NW up 2 percent
All wheat stored in all positions on Dec. 1, 2015, totaled 55.5 million bushels in Idaho, up from 50.1 million bushels a year ago, according to the National Agricultural Statistics Service.
SALES YARDS, GRAIN MARKET

Horses on Sears Creek Road outside of Harpster were enjoying some winter sun recently.
NRCS presentation on implementing the carbon cycle into farming operations
Marlon Winger, Soil Health Specialist for the Natural Resources Conservation Service, will be participating in a workshop in Ferdinand next Tuesday. On Feb. 9, he will talk at the Soil Health Workshop at the Assumption Parish Hall, 514 Maple Street in Ferdinand. Winger's presentation will cover implementing the carbon cycle into farming operations along with the available tools to measure soil health.

29 Day Raffle
See the winners here!

Grangeville man charged with felony
UPDATE - Wednesday, Feb. 3 - Grangeville resident Barry R. Kretschmer, 33, was arrested this morning, Wednesday, Feb. 3, for burglary in connection with thefts from Gortsema's Storage.

Cardboard, plastics, tin and aluminum, as well as discarded electronics products...

Rae Brother's Sporting Goods hosted a steelhead fly fishing clinic last Saturday, Jan. 30...
School choice; Education Week at Capitol
During "Education Week" at the Idaho State Capitol, Superintendent of Public Instruction Sherri Ybarra requested a 7.5 percent increase in the public education budget over last year, for a total request of $1,577,904,100. Idaho's eight colleges and universities presented their budget proposals to the Joint Finance and Appropriations Committee and updated the education committees on their activities.
More than 25 people showed up for the Grangeville Chamber of Commerce quarterly meeting where they welcomed representatives from Avista Utilities. Regional business manager for the Lewis Clark region, Mike Tatko, regional account executive Jayson Hunnel, new Grangeville district manager Jeff Schwendener, and local office receptionist Holly Cox all attended the meeting.
Note that last week's story on Bear Claw should have stated he worked for a total of 19 years in a muffler factory in Wisconsin. I had that interview on Monday and hurriedly wrote the story when I returned and noticed the next day I had missed that fact.
The Idaho Division of Veteran Services will have a veteran's advocate in Grangeville on Tuesday, Feb. 9 at the Idaho Department of Labor, 305 N. State St. in Grangeville.
Majority of watershed basins at 95 to 175 percent of normal
The Clearwater River Basin is on track with good precipitation levels, according to the first water supply outlook report for the 2016 water year released by the Natural Resources Conservation Service (NRCS).
Syringa gets clean audit for 2015 FY
"Looking back, we can see that 2014 wasn't the best year, but 2015 was pretty good," said CPA Carl Swenson of Crandall-Swenson, PLLC. Swenson spoke to the Syringa Hospital (SH) board Jan. 25 at the regular monthly meeting and presented the hospital's annual audit. While 2014 ended with an overall loss of $4,611, the hospital was on the plus side at $100,453 for 2015.