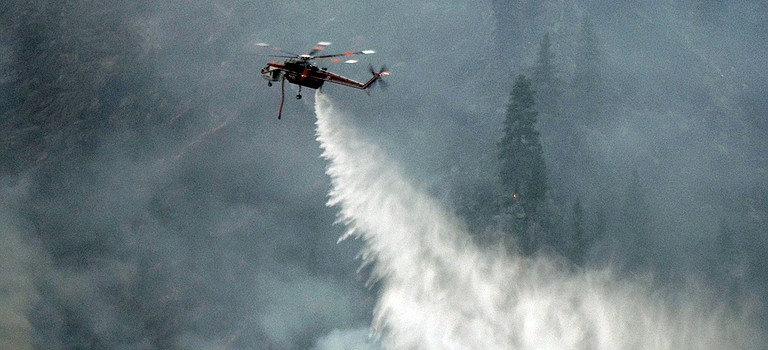 Helping homeowners prepare for fire
Recent rainfall gave firefighters a much needed reprieve to allow work to create defensible space for properties in the Elk City township. A structure assessment group is working in Elk City to identify hazardous fuels and ways homeowners can reduce the risk of wildfires damaging or destroying homes and other buildings on their properties.

The western area of the Motorway Complex received a tenth of an inch of rain yesterday, Aug. 29. Far to the east, the Powell-area Jay Point and Boulder fire areas received hundredth of an inch of rain. Much of Idaho County received similar amounts, according to the National Weather Service, which estimates an 80 percent chance of more rain today across much of the region.

Yesterday, fire managers and the Idaho County Sheriff's Office escorted 70 rafters by pilot car from French Creek down the Salmon River Road to Riggins. The rafters had been stranded by closures due to the Tepee Springs Fire, which has grown to nearly 49,000 acres and has burned northward from its origin southeast of Pollock all the way to the Salmon River east of Riggins, primarily on Forest Service and Bureau of Land Management land. "Boulders and other debris falling onto the road have hampered additional efforts to transport recreationists and the roadway is currently blocked," the BLM reported Saturday morning. "Transportation efforts to move rafters to Riggins will resume once the roadway is cleared and deemed safe for travel. The Tepee Fire continues to threaten Forest road 246 at French Creek, a road that was initially utilized to escort rafters down to McCall."

An area closure is related to the rapid spread of the Tepee Springs Fire will shut users of the combined Nez Perce-Clearwater National Forests out of an south of Grangeville for safety reasons. From the southern border, the Salmon River, from the forest boundary east to French Creek, the closure area extends north for approximately ten miles. This closes the southern segment of the Grangeville-Salmon River Road 221.

The Nez Perce-Clearwater National Forests have detected 282 fires, of which roughly two-thirds have popped up since the Aug. 10 lightning storm. More than 65,000 acres have been burned so far this fire season.
The Tepee Springs Fire grew to the north yesterday, leading the management team there to post a notice that residents should start packing important belongings across a wide tract that includes Riggins, Pollock and surrounding areas.

While the Municipal Complex fires near Orofino, Greer and Reubens are said to be 85 percent contained, and while Clearwater Complex command has made definite progress against the fires in the Kamiah area, Motorway Complex command reported 28 of the 29 blazes in its charge remain uncontained at last check and Selway Complex command was still setting up its shop in Elk City.

Cottonwood Livestock Auction; Western Video Market; CHS Primeland.

A new face in the Grangeville Elementary Middle School principal's chair is actually a familiar face to GEMS.

The public-information meeting scheduled for Friday, Aug. 28, at the Riggins Community Center to discuss the Race Creek Bridge replacement project on U.S. 95, has been canceled due to wildfire south of town and the use of the community hall by fire-fighting personnel. The replacement project itself, which was planned to begin Sept. 1, also will be delayed by the fire.

Katrina Frei of Grangeville was crowned the 2016 queen...

Sales, animal numbers down from 2014
Numbers were down for both total animals and gross proceeds from Saturday's Idaho County 4-H/FFA Livestock Sale.
ECP provides cost-share for installing eligible permanent measures
A lack of moisture, over an extended period of time, has caused farm producers in Idaho County to suffer from the effects of severe drought conditions. Farms and ranches experiencing severe drought conditions may be eligible for cost-share assistance under the Emergency Conservation Program (ECP).
How are Northwest winter wheat farmers using agricultural chemicals and biological pest management alternatives in order to maintain a safe and abundant food supply?

He's a traveling man and it's time for a change.