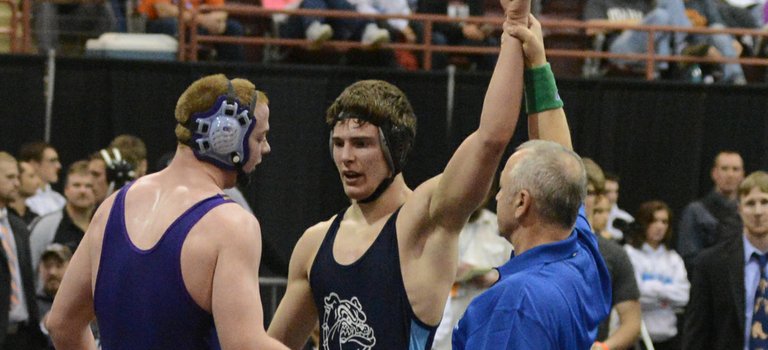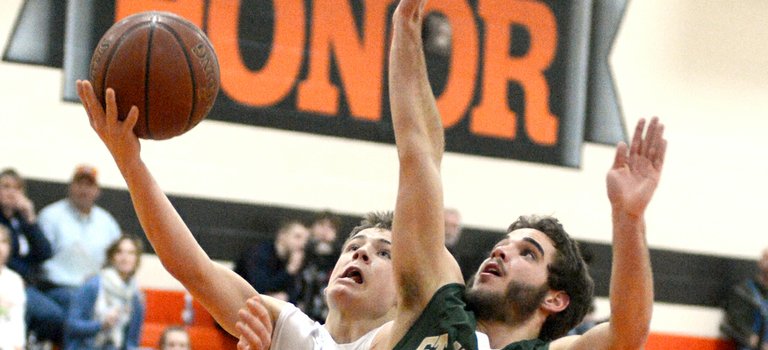 Walters takes the title in last match for GHS; three area wrestlers also medal.

As five early lead changes would suggest, St. Maries put Grangeville into a bit of a wobble during the first quarter of the 2A District I-II title game last Thursday night, Feb. 27. But as the big run the Bulldogs delivered with a state berth at stake would suggest, the reigning state champions are capable of strong defense when they play balanced basketball.
With three state titles — a football title, a basketball title and another football title — to their credit since the autumn of 2013, Salmon River tacked on a 1AD2 District III title with a cutting victory over Ambrose last Thursday night, Feb. 27.
Lapwai led the district championship game last Wednesday night, Feb. 26, by as many as seven points, but Prairie, unphased by a couple of early treys, rallied to within a point before the first quarter ended.
Megan Sullivan, a 2012 Grangeville alum, and a sophomore at Eastern Oregon University, qualified to run the open 400 at the NAIA Indoor National Track and Field Championship March 6-8.
The monthly Grangeville High School Booster Club meeting is set for Monday, March 10, 7 p.m., in the GHS library.
The Grangeville High School winter sports award night is set for next Tuesday, March 11, 7 p.m., in the cafeteria.
White Bird Queen tryouts are set for Saturday, March 22, at the White Bird Rodeo Arena on U.S. Highway 95, starting at 1 p.m.
The Idaho Department of Fish and Game's proposed changes for the 2014 big game hunting seasons are available online for public review and comment.
The Grangeville men's basketball city league games will begin March 18.
Idaho Fish and Game, in cooperation with the USDA Wildlife Services, has completed another wolf control action in northern Idaho's Lolo elk zone near the Idaho/Montana border to improve poor elk survival in the area.

In partnership with Flying B Ranch in Kamiah, IDFG conservation officers Roy Kinner and George Fischer held the first annual "Recruitment and Retention" hunt last Sunday, March 2.
Youth Basketball Tournaments

Call these Prairie Pirates champions once again, and count coach Lori Mader's pressure defenses and post offenses among the level's most potent powerplays. Lapwai — second-best among the 1AD1 girls for the second straight season — fell into early foul trouble and soon proved prone to attack by PHS forwards Kayla Schumacher and Kyndahl Ulmer, who scored 17 points apiece to lift Prairie's second girls basketball title in three seasons, 56-40. As the fouls piled up during the championship game last Saturday, Feb. 22, at the Idaho Center, the Wildcats' ability to counter Prairie's effort dwindled as each half progressed.
Previous Next