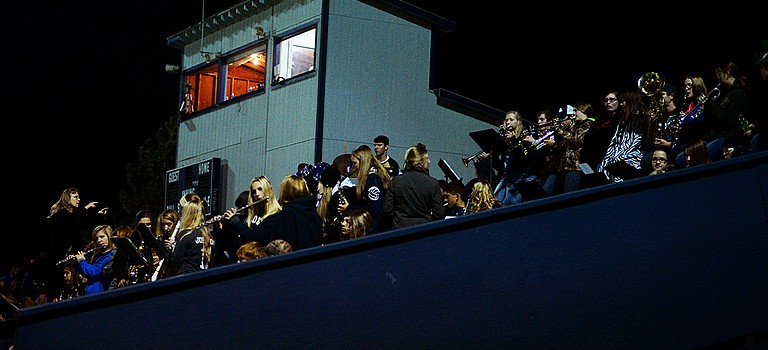 CIL Volleyball
Grangeville played its busiest week of the season so far, with seven matches in as many nights. GHS split the crucial ones last Saturday, Sept. 26, at St. Maries. There, the Bulldogs opened Central Idaho League play with a win over Coeur d'Alene Charter and a loss to St. Maries.
Football, golf, bowling, rodeo and Flamingo Fun Run results.
Whitepine League Football
The last week of the regular season continues to loom as potentially the Whitepine League's largest, as Prairie and Kamiah stayed on course to collide on the Kubs' field with unbeaten records.
"Every McAdow boy, when he graduates hunters ed, gets a complete custom-built rifle to his specifications," Tom McAdow said last week. "Mine's a Mauser 25-06."

Salmon River made short work of Garden Valley, dropping a Long Pin Conference foe -- an outfit Savages coach Paula Tucker coached previously -- by scores of 25-11, 25-8, 25-6 Thursday night in Riggins. A tri-match in Grangeville went in Kendrick's favor, as the Tigers beat both the Bulldogs and Summit in four sets. GHS edged the Patriots in five sets (25-15, 20-25, 26-28, 25-20, 16-14).

Volleyball was created in 1895 by a YMCA instructor. In 1964, it first appeared in the Olympics. In 1968, it became the NAIA's 15th competitive sport. And 30 years ago, in 1985, volleyball made its way to Grangeville High School. * "I really pushed to get volleyball through," said Sally Greene, who taught at Grangeville High School for five years in the '80s.
IDFG announces beginners' page; 'Think Pink' tourney lands on Oct. 15; How to stop a poacher with a phone call; Clearwater Region fire restrictions lifted; Sage grouse will not be listed under ESA.

Dan Fogleman shot this 300-plus bull with his rifle on Sept. 20 in the Gospel Hump Wilderness.

Grangeville finally won its own tournament, much to the relief of GHS head coach and tournament organizer Kelcey Edwards. "I was pleased," Edwards said. "It's the first time I've won our own tournament."

2A Football
Layton Harris had a strong performance throwing the football during Grangeville's 48-8 win over McCall-Donnelly last Friday night, Sept. 18. With 300 yards on pass plays, which averaged 30 yards per attempt, Harris delivered four touchdown throws.

Any thoughts Council might have had of staging a homecoming upset of the reigning D1 champion Pirates were vaporized during the second quarter on Friday night, Sept. 18.
Grangeville Tournament
With volleyball action set to continue this afternoon, Grangeville and Salmon River both have three wins to their credit so far. GHS has beaten Summit Academy, Nezperce and Cascade, while Salmon River has beaten Cascade, Nezperce and Tri-Valley. Grangeville and Salmon River will square off during pool play later this afternoon, and that match appears likely to determine the top seed for the bracket round to follow. .

Prairie led Council 44-6 at halftime and won 64-24. Grangeville led McCall-Donnelly 21-0 at halftime and won 48-8.

Somewhere in the past decade or so, Grangeville High School cheerleaders have gotten a bad rap. "I'm not sure when it happened, but somehow it became considered not cool or popular to be a cheerleader," said GHS secretary Alecia Hagen.