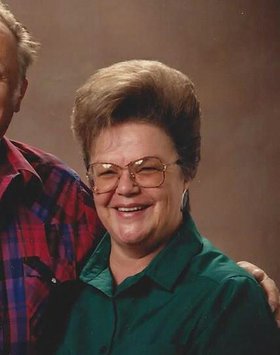 Edwina Nitz
Stites, ID
August 28, 1936 - December 7, 2013

Edwina Nitz, 77, of Stites, Idaho, died Dec.7, 2013, at St. Mary's Hospital in Cottonwood, Idaho. Edwina was born to Edwin and Lora Marie Crook Laine Aug. 28, 1936, in Kooskia, Idaho.
Edwina lived in many places in her lifetime such as lookouts, pole camps and logging camps. Her mama always said "and then you grew up and went on to construction camps and hunting camps." Edwina waited tables, tended bar and cooked, but Edwina was mostly a stay-at-home mother of her three children. Edwina said that she learned to make gravy at the age of 8 in cow camp when her mother would put her up on the chair next to the stove and stir. Edwina was an excellent cook. Her special dish was her Grandma Kate's Spaetzle. This was the traditional Christmas Eve family dish, handed down for generations.
Edwina loved bowling and her bowling family. Edwina traveled as far east as Buffalo, N.Y. for tournaments. She was an avid bowler and loved the people and the game.
Edwina loved music and to sing in her younger days. She would always sing old cowboy songs to her kids in the car. She sang all her life. She would always tease her baby sister, Sandy, by singing "Old Shep" as it would make her cry. Edwina loved to read books and play cards with friends and family. She quilted and crocheted for family and friends. Edwina was the type of person who would let you know what she thought, good or bad. Many of Edwina's friends say that is why they loved her. Edwina will be missed by all who knew and loved her.
Edwina stated she lived a good and happy life. She had two good husbands who loved her and their children. Edwina married William "Bill" L. Allen in 1954 and they had three children, Leigh Paige (David) Crow, Percy Bryan (Debbie) Allen and Michelle Marie (Tom) Woolrich. They divorced in 1968. Edwina married Donald L Nitz in 1968 and they had 41 years together. Don and Edwina had a good life working and traveling in their motor home. They have nine grandchildren, 10 great-grandchildren, and many nieces and nephews. Edwina loved her nephews, Kim and Ray Ward, and they were there for her, too. Edwina also had special friends, Pat and Bob Hutchins and Jerry Cross.
Edwina was preceded in death by her parents, Edwin and Lora; her sister, Sandy Ward; brother, Robert Roland; and husband, Don Nitz.
Memorial donations may be made in Edwina's name to I-CARE (Cancer Association Recovery Effort) c/o Dee Crane, 2134 Canyon Creek Road, Orofino, ID 83544. Edwina would like that.
A memorial service will be at 1 p.m., Friday, Dec. 13, 2013, at the Kooskia Rebekah Hall. A covered dish dinner will follow. Come and share your stories and memories of Edwina. Trenary Funeral Home of Kooskia is assisting the family.