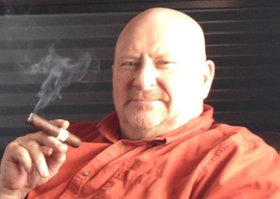 Bradley Dee Hewson
Spokane, Wash.
October 2, 1958 - April 2, 2014
Bradley Dee Hewson, 55, of Spokane, Wash., died April 2, 2014, at his home of an apparent heart attack.
Brad was born Oct. 11, 1958, in Grangeville, Idaho, to Ronald Hewson and Myrna Bardoff Hewson. They had two more children, Brian and Lori. He graduated from Grangeville High School in 1976. He married Susan Chandler in 1982. They had four daughters, Faith, Hope, Katie and Bryttani. Brad and Sue later divorced. He married Karen Major in 1995 and they had two children, Benjamin and Bethany. He and Karen later divorced.
Brad worked for many years in the telecommunications field and most recently at Volt Management for Avista Corp. He worked for Bechtel Engineering for many years and was proud of going to Argentina to bring cable television to that country along with many other career accomplishments. He was loved and admired by his many co-workers and friends. Brad was best known for his quick wit and unique sense of humor. We never knew who was going to walk through the door, "John Wayne" or "Barney Fife!"
He was a great dad and enjoyed spending time with his children. He enjoyed ham radios, electronics, watching the Spokane Chiefs, riding his Harley and cigars.
He is survived by his mother, Myrna Crane; daughters, Faith Hewson, Hope Hewson, Katie DuPont (Phil), Bryttani Hewson and Bethany Hewson; and a son, Benjamin; grandsons, Jakob and Matthew DuPont; brothers, Brian Hewson (Maryann), Steven Crane, Marty Crane (Carol); sisters, Jamie Russell, Lori Hewson, Marlo Corder, Kristi Keeler (Donnie) and Misti Fogleman (Steve); numerous nieces and nephews; and his aunt, Charlene Schumacher.
He was preceded in death by his dad, Ronald; stepfather, Jerry Crane; and grandparents.
A memorial service will be held on April 19, at 1 p.m.at the Eagles hall in Grangeville.