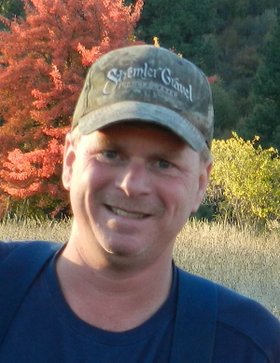 Jeffrey Scott Johnson
Harpster, Idaho
unknown - February 28, 2014
At age 43, our beloved Jeff enjoyed his last earthly adventure in an off-road desert race on Saturday, Feb. 22, 2014, in Primm, Nev. Seven days after an accident during the race, Jeff came to rest in I.C.U. surrounded by loved ones on Friday, Feb. 28. From an early age, Jeff lived life with gusto. He enjoyed working and playing with dune buggies, 4x4 rigs, participating in the annual cornfield race and his true passion, hunting and fishing.
In 2000, Jeff took over his dad's business, Johnson & Sons Excavating, and loved his work as an excavator. In 2006, Jeff and wife, Kristi, moved from Whatcom County, Wash., to Harpster, Idaho, and built their dream haven in the hills. In beautiful Idaho, they enjoyed hunting, fishing, and "living off the land", and were blessed with spending a winter month or two in Arizona pretending they were retired.
Jeff was admired by many, being a hardworking, intelligent, honest, loyal, friendly and commonsense kind of guy. Jeff is survived by his loving wife, Kristi Johnson; adoring parents, Bob and Barb Johnson; son, Jarod Johnson; sisters, Tammy Rounds and Bobbie (Marty) Silves; grandparents, Bill and Luz Wegley; granddaughter, Karmen Johnson; the Barter, Pfullmann, Bailey in-laws (AKA "outlaws"); as well as four nieces, a nephew, numerous aunts, uncles, cousins, many loving friends, and good 'ol Maggie dog.
In a final gesture of kindness, Jeff donated his heart, liver and kidneys to help others. He will be greatly missed, but will live on in our hearts forever. Memorial service and reception will be held at the Deming Log Show Museum (3295 Cedarville Rd., Bellingham WA 98226) on Sunday, March 23, at 3 p.m. A memorial /celebration of Jeff's life will also be held in Idaho, later this spring. Date and time to be announced once arrangements have been made. Contributions to assist family may be made at any U.S. Bank branch or www.gofundme.com/76iy1k.