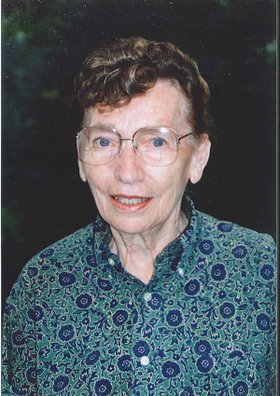 Ruby Evelyn Scott
Harpster, Idaho
November 14, 1918 - March 14, 2014
Ruby Evelyn Scott, 95, was born Nov. 14, 1918, at home in Harpster to her parents, Floyd F. Ferguson and Ida M. Weholt Ferguson. She passed on March 14, 2014, at her home in Harpster. Her parents farmed and ran the local store/hotel/post office. Ruby developed a work ethic early, helping her mom keep house and put food on the table and into sack lunches for boarders who stayed in rooms above the store. While still a preteen, she and friends held a party to display quilts they'd sewn themselves. She loved working outside with her dad and loved caring for all animals. She attended school in Harpster up to early high school years.
Ruby was an early days Border Days princess. She worked at the then-new Grangeville Syringa Hospital as a practical nurse during the early 1940s. Then she worked at Camp 58 near McComas Meadows as a cook's helper. That's where she became acquainted with Bruce A. Scott. They married in June, 1944. She and Bruce settled a block from where she was raised into a house that had once been an assay office for gold and silver, but was then expanded into the Jim Surridge residence. Once Ruby and Bruce purchased and settled into the house, they began building their own ranch and a family of seven children that Ruby considered her greatest accomplishment.
Ruby was an accomplished self-taught artist. For extra money, she would paint scenes of lakes, mountains and wildlife onto the conks she harvested from trees, treated with gasoline and shellacked to make "canvases" that last to this day. In the 1960s, she painted a wall-sized forest and waterfall mural that's been used as the backdrop for Clearwater Valley High School proms.
Mom worked outside in the fields and with the cattle. She raised a huge garden in the draw around the bend, where she dammed up the creek for all-summer, gravity-fed irrigation. When she wasn't working outside, she was working inside. She was a fantastic cook. But her children especially remember the cakes she decorated for their birthdays and holidays, using simple things like gumdrops to make flowers and leaves. Homemade chocolate cake with seven-minute brown sugar icing was a favorite, as was a chocolate float, and a flour and milk concoction served with cinnamon, butter, sugar and milk that we knew as baby mush.
Together, Ruby and Bruce built the Harpster RV Park and store on a piece of land where her parents had once raised potatoes that were sent to Elk City and the mines. Mom spent several years tending the RV park and store. In her early 60s, she designed the lovely, two-story house that she and Bruce moved into from the old house that sat just below it. Then the old house was skidded on logs to a new lot, because nothing serviceable was ever wasted.
Bruce and Ruby also built a cabin near Elk City, doing most of the work themselves, and spent many enjoyable times there, especially when kids or grandkids came to stay.
Memorable trips for Ruby and Bruce, and sometimes kids, was an early trip through the Southwest and into Mexico, to the Seattle World's Fair, to Hawaii, to the Oregon Coast, and then seasonal trips to Arizona with fun stops in Las Vegas along the way. Ruby enjoyed trips to see her only sibling in California. In her 80s, she and her children enjoyed an Alaskan Inside Passage Cruise. She also enjoyed a few trips to Reno, where she always managed to win and shared her winnings with family.
Mom always managed more than her best with what was often less than the task demanded. She loved both immediate and extended family. She was kind, gentle, careful with her words, and her quick, dry wit could take you by surprise. When she talked, we listened. She loved us. Saying we will miss her is such an understatement. Ninety-five years worth of energy and perseverance burned through this life as a steady brilliant light! As a friend said of her, "She is a hardy, wild mountain rose loved by God." And she, our mom, is loved so much by us.
She was preceded into Heaven by her parents; her husband; her eldest son, Bruce F. Scott; brother, Milton Ferguson; close cousin, Don Morrow; many other beloved cousins, brothers- and sisters-in-law and friends.
She is survived by her youngest son, Allan (Robin) Scott; and by daughters, Doris (Jerry) Dixon, Ardis (Gordon) Eckel, Ellen Howard, Christine (Glen) Schroeder and LaVon Scott. She was blessed to live to see 14 grandchildren, more than 20 great-grandchildren and even great-great-grandchildren. She is also survived by several nieces, nephews and cousins.
A memorial service was held Tuesday, March 18, at Trenary Funeral Home in Kooskia. Graveside service followed at Harpster Cemetery.
Memorials can be made to Animal Ark, P.O. Box 412, Grangeville, ID 83530.