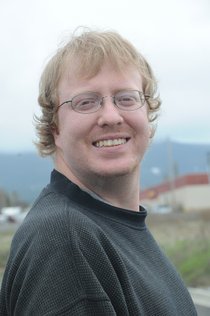 Recent Stories
Editorial
Idaho County Commission chairman Skip Brandt has a problem. And he's about to turn his problem into your problem. The problem is one taxpayers pay commissioners to solve. There is a hole in the revenue side of the county road and bridge department's fiscal 2018 budget – a hole where federal forest funds used to fill in for lost federal timber revenues.

Organizers estimated several hundred people had attended the Puget Sound Antique Airplane Club's 2017 Northwest Air Tour during the morning July 12 at the Idaho County Airport.

Brian Crowl won the Firecracker Fun Run July 4, finishing the new route in 18:10.09. The first female finisher was Lindsay McTague, who crossed the start-finish line, near the corner of Hall and West North Street, about six minutes later.

Private grassland southeast of White Bird burned overnight July 7, with locals who stayed up late taking photos of the burning at Baker Creek waking up to find the swath showing little activity Saturday morning.
Editorial
Each time our country marks its beginning, we're reminded not only of what was written in the document which Thomas Jefferson penned and which the nation's early leaders adopted July 4, 1776. We're reminded of the colonies' early attempts at designing a limited central government, and we're reminded of the Constitution, replete with the Bill of Rights.
The Idaho County Commission received three letters from the Payette National Forest last week, including one dated June 19 that disclosed the Payette's talks of acquiring about 40 acres across the Salmon River from Tepee Creek and Jersey Creek in the southern part of the county.

"...we come back for Border Days to see everyone..."
Sounds of joy, a few tears and lots of cheering filled the streets Sunday, July 2, as Border Days street sports kicked off on Main Street. Names called for foot races included winners from Idaho, Washington, Oregon, Montana, California and even as far away as Pennsylvania.
In local events this Border Days Rodeo, there are 21 barrel racers and 13 team roping teams signed up.

Slack 10 a.m. July 1, shows 6 p.m. July 1-2-3
The Border Days Rodeo is once again set to run July 1-2-3, 6 p.m. each night, and organizers are anticipating cowboys competing throughout the region will once again make the journey to Grangeville for a chance at a chunk of $13,800 in added money.

As one travel plan's journey ends in court, another's may begin
The Nez Perce-Clearwater National Forests have fended off another lawsuit in federal court, with United States District Judge Edward J. Lodge recently ruling in the combined forests' favor on a case Idaho and Clearwater counties brought four years ago.