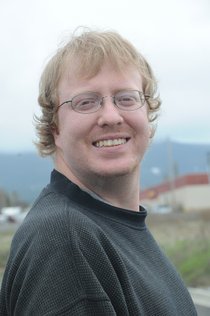 Recent Stories
Western Pacific Timber (WPT) delivered an Upper Lochsa Land Exchange proposal to the offices of Sen. Jim Risch, Sen. Mike Crapo and Rep. Raul Labrador last Monday, Sept. 22.

A famous boxer supposedly said "Everybody has a plan until they get punched in the face." Clearwater Valley's designs for slowing down Kamiah took a hit 15 seconds into the game last Friday night, Sept. 19.
During the third quarter of a lopsided 41-6 win over McCall -Donnelly last Friday night, Sept. 19, Grangeville's junior quarterback, Layton Harris, marked four games in a row with at least two touchdown passes.
The Johnson Bar Fire on the Moose Creek Ranger District has grown along its southeastern and northwestern flanks, where a Sept. 12 heat map showed fire activity increasing in conjunction with warmer weather last week. Firefighters surged into the area late last month, and as of Sept. 15, the fire had not crossed any of the lines built in August.
Commission approves $18 million budget; property tax rate unchanged
As part of a 19 percent bigger budget for fiscal 2014, which the Idaho County board proposed last month and approved last Tuesday, Sept. 2, the county commissioners tabbed $3.3 million for a major airport renovation during the upcoming fiscal year. The money will fund a new runway at the airport in Grangeville, where the county anticipates construction as early as the end of summer, 2015.

Prairie's season opener featured a matchup of two of the Whitepine League's elite teams — a rematch between teams whose places in the WPL pecking order were determined by a back-and-forth 96-point shootout last September in Cottonwood.
The Whitepine League standings include just two league games so far, with reigning WPL champion Troy and chief contender Prairie still undefeated after Week 1.

Kooskia Krush won the 2014 Grangeville Co-Ed Softball League championship last Wednesday night, Aug. 27, at Lions Park, by claiming a 15-9 win over runners-up Brew Crew.

Less than a minute into the Bulldogs' 2014 opener, defensive back Michael Wilson — Grangeville's most experienced varsity player — picked off Moscow's third down pass attempt and returned it 10 yards to the Bears 12. Two minutes later, Jack Lawrence — a junior running back and linebacker making his first varsity start — showed off his speed with a touchdown run around the left side of the formation.

Two years ago, Harvard researchers found a link between two motor neuron diseases: Lou Gehrig's disease (ALS) — and spinal muscular atrophy (SMA), which threatens the life of tiny Oakley Smith.