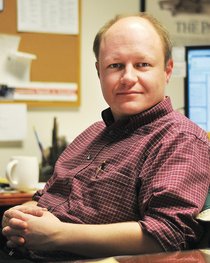 Recent Stories
Good solutions that cut out wasted spending and arbitrary decision-making. Empowering individuals to serve justice.

Air center resources would be dispersed during airport work
"The base will be fully staffed, and operations will be the same," said Willy Acton, forest aviation officer for the Nez Perce-Clearwater National Forests.
Contingency plans are in place at the Cottonwood Airport, ready to handle increases in diverted traffic and usage if and when the runway at Grangeville undergoes an $8 million federal reconstruction project.
New $300 infraction included for failure to scoop the poop
The Idaho County Sheriff's Office (ICSO) is investigating an individual's claim to tens of thousands of dollars found at a Keuterville-area property last month.

Feds to fund 90 percent; project tentative to begin in July; closed to fixed-wing aircraft into fall.

Inattentive driving cited in Feb. 17 two-vehicle crash at Cottonwood
Inattentive driving was cited as a factor in last week's two-vehicle crash on U.S. Highway 95 at Cottonwood. No injuries requiring medical transport were reported.

The Valentine's Day Hometown Barn Dance at the Kamiah American Legion Hall drew 81 people Saturday night, Feb. 14, and raised just more than $2,500 for ICARE (Cancer Assistance & Recovery Effort). Started in 2008, ICARE serves the Clearwater River communities, providing benefits to area cancer patients who are actively undergoing treatment. Since its formation, ICARE has helped a total 142 people with a total $64,300. Information about ICARE is available by calling either 476-5971 or 476-7148.

Motorists escaped serious injury in a two-vehicle collision Monday afternoon, Feb. 16, at the intersection of Main Street/State Highway 13 and Mt. Idaho Grade Road.
Our Dist. 7B Representative Paul Shepherd recently came under fire for proposing the state make a custom license plate featuring the Orofino Maniacs logo, a portion of sales ($12) from which would benefit their schools.